You know how you'll be out on the hunt, shopping at a vintage store, and a unique piece will catch your eye on the rack? But it seems a little too unique, so you pass. How in the heck would you wear that thing, anyway?! Well, we're here to help!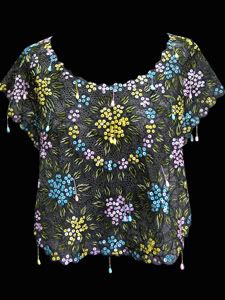 While this standout sequin number (courtesy of monster vintage!) might, um, make you stand out, all it really takes is a few basics and some confidence to make it work for any time of day. Check it out:

(click image to enlarge)
1. Errands Throw on your favorite jeans, a tank top underneath and a cardigan over this piece to tone it down, and no one at the grocery store will think you're a weirdo.
2. Drinks with the girls Play up the colors of the top with a bright bag or other accesory, but keep the rest of the outfit simple and late-night.
3. Date night You can definitely have a little more fun on date night. Throw the cropped top over your fave LBD and prepare for drool. Add some fun jewelry (nothing that will be in too close proximity to the sequined top, though) and killer shoes.
4. Concert Stand out from the crowd (surfers) in rockin' over-the-knee boots and (gasp!) nothing more than your cutest bra underneath this lace number. Throw on a cross-body bag-you won't have to hold it all night- and a cute hair accessory and prepare to get out yer seat and jump around!
What do you think, dear readers? Would you ever think to buy this crazy top?
Let us know if you need some styling tips for a unique piece you saw/own. We'd be happy to help!
xoxo, sally