I am moving to Portland in September and have been saving up money for almost a year. I'm sure I don't have to explain to you that this has meant very little shopping for me. But we found a house, paid our move-in fees and I finally have a little extra cash burning a hole in my pocket. My friend Yazi texted me the other day and asked me if I wanted to go to Indie Mart. I didn't have a clue what she was talking about, and was more than a little skeptical to go to something with the word "indie" in the name, but once I checked out the website and realized that this would be a shopping trip, it was game on. I couldn't wait to go. As someone who is not only a first-class people watcher but a lover of street style, I thought this would be a perfect time to spotlight some well-dressed lads and lassies from my neck of the woods and steal their ideas. I spent the day shopping local designers, enjoying the sun and bugging the locals. I asked them, "How would you describe your personal style?" I assumed such fashionable individuals would be able to explain their ensemble choices to me, but I seemed to catch a lot of people off guard, hence all the question marks.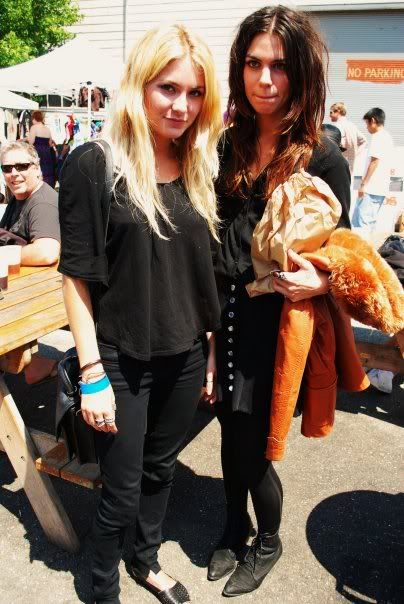 L: Danielle, 19
"I hurt my toe the other day, so anything that goes with these sandals!"
R: Jenny, 19
"Stylishly sinister."
It speaks volumes about your style when you're wearing head-to-toe black on a hot day and I don't think you're completely nuts.
Katrina, 20
"Anything vintage."
Love your outfit, love your attitude, thinking about being you for Halloween!
L: Mikey, 27
"I don't know… lazy?"
R: Ben, 18
"Totes 90's!"
Huaraches? Make it work!
Heather, 29
"Modern. Vintage. Classic."
This is the perfect outfit for a hot day at the market, especially the margarita.
Ashley, 25
"Sunday… yeah."
Sometimes your hair is your greatest accessory.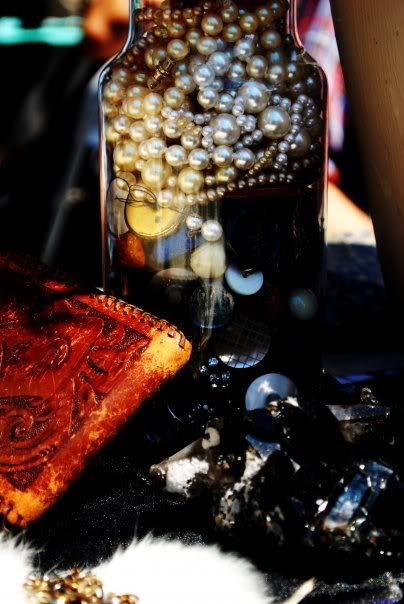 These fabulous ladies were from Australia. Sweet as pie and out "spending way too much money." I even gave Bec the number of my tattoo artist (on her arm.)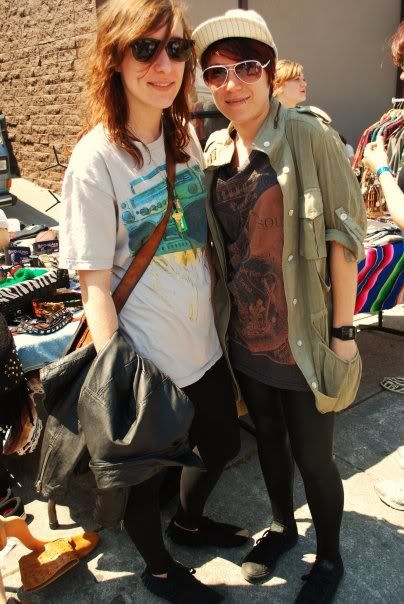 R: Bec, 24
"I wouldn't say grunge… Skatey?"
L: Lauren, 24
"I like vintage and I like alternative."
(Did you read both of those in Australian accents? You should.)
I saw a lot of single keys on a chain, a la latchkey kid. Consider that idea STOLEN.
Brette Howard, CC Rider SF
As someone who has been growing out her hair for a year now and it's still not long enough for your cute style, I must say GIMME!
L to R:
Krista, 26
"Casual and simple. I like dresses."
Tiffany, 25
"I like things with buttons on them."
Cari, 26
"I just wear whatever's comfortable."
Juliana, 26
"I thought it was going to be cold, so I wore a long-sleeved shirt in case I needed to roll them up. I own about 9,000 button-down shirts."
I like all of those things, let's be friends!
Lisette, 29, Extensionist, Goddess Extensions
"It's like Latin explosion meets wood nymph?"
This chick stopped in the middle to talk to her friend in Spanish. She's got in goin' on.
R: Heather, 25
"Vintage gypsy."
L: Sarah, 26
"Grunge?"
Not a true story: The real reason I approached these girls was to mug them for their shoes and hat, but they were too nice. So I ended up drooling on their shoes instead.
Tiffany, 32 and Elvis, 3
"A little bit of granny vintage, but keeping up with the trends."
How cute is little Elvis? Consider yourself dog napped, buddy! (And bring your mom's shoes with you so I can have them, k?)
Melissa, 23
"Scrambling, messy… JBF?"
I cannot print what JBF stands for on this here website. You probably shouldn't google it, either…
R: Becky, 23
"Casual, comfortable, I try to shop vintage or local."
L: April, 20
"Yeah, what she said!"
For ladies with such uniquely fabulous outfits, they sure had trouble coming up with a description for their personal style, but I totally ambushed them.
Annie, 25
"Part rocker… braless rocker?"
Annie is visiting from Portland, REPRESENT! We exchanged numbers after I told her I am moving there in a few weeks. Her tattoo is of her grandmother's antique sewing scissors.
Sally, 24 (that's me)
"Today, this outfit just had to go with the shoes! They're Jeffrey Campbell and I just got them! I shouldn't have worn jeans, I thought it would be a lot colder…"
Yazi, 22 (my stylish shopping buddy)
"I am inspired by every decade and try to pull timeless pieces and add a little splash of new styles. I like yummyness."
All in all, I had a great day and I made out like a bandit! I got a cute little tote bag and a screen-printed t-shirt, both from local Bay Area designers, saw some great personal style in action, and caught a great performance by Red, White and Drunk at Thee Parkside (and sang along to their cover of Lisa Loeb's Stay… you had to be there, I guess.)
What did we learn today, kids? I learned that I should probably dress for hot weather and bring a sweater in case it's cold (summer style rule #1, duh), wear more sunscreen, and that a good friend or a cutie boy are the perfect accessory for a day on the town. You probably learned that my obsession with shoes makes you uncomfortable.
So what about you, dear readers? What do you think about Bay Area style? How would you describe your personal style? And, most importantly, what do you think of my new shoes?!